We Had the Ultimate Summer BBQ!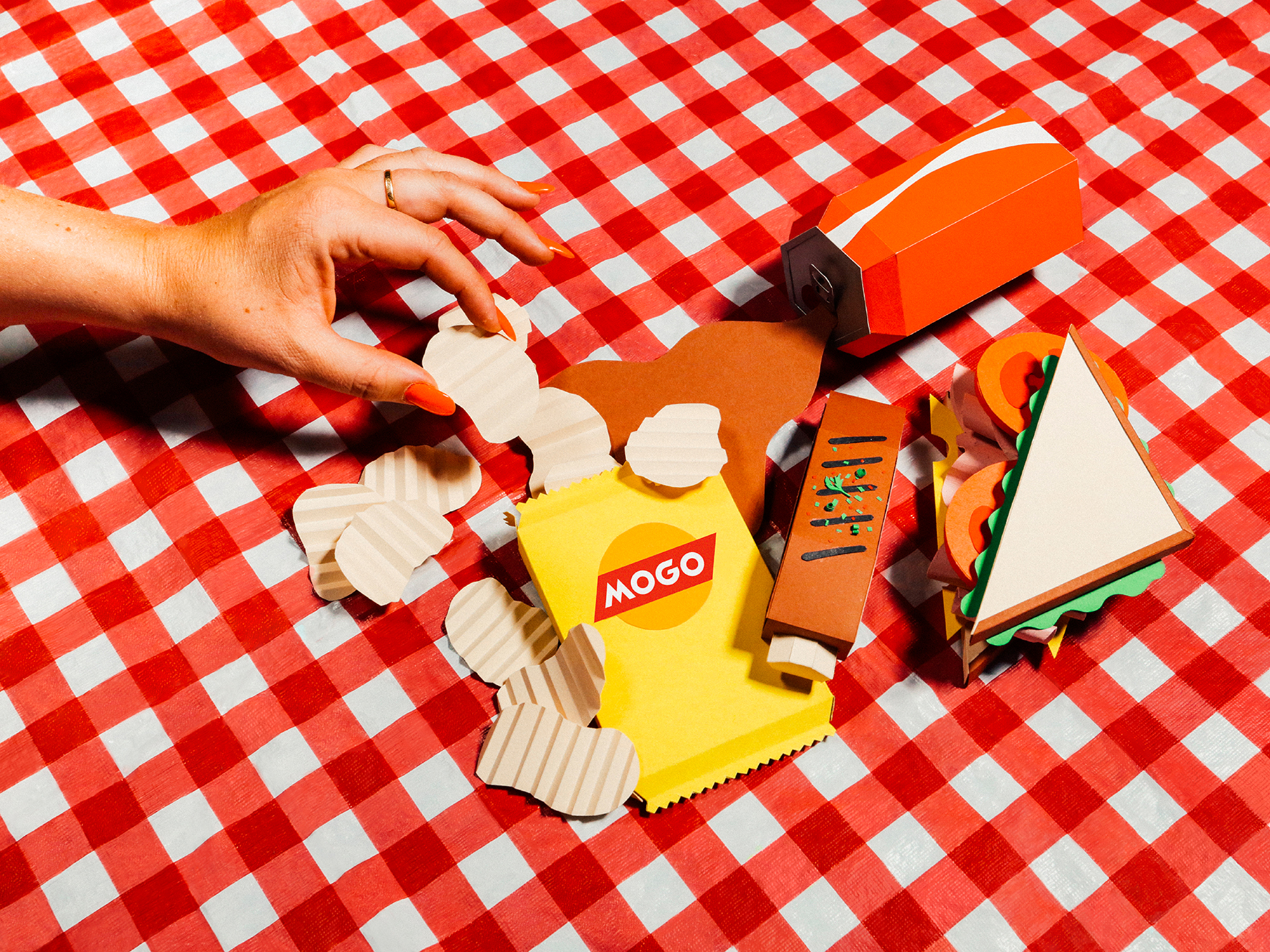 Nothing brings people together like good eats, sweet tunes, and free stuff! So to celebrate the opening of the #MogoLounge, we threw the ultimate summer BBQ!
At the beginning of the summer, Mogo opened the doors to the MogoLounge. Located at 797 Queen St. W, this concept store – equipped with friendly staff (to answer your financial questions), a mini fridge full of Mogo-branded water (for all your hydration needs), a couple of comfy couches (to meet friends, to read, etc), and a backyard patio (for everything/anything else) – was designed for community gathering.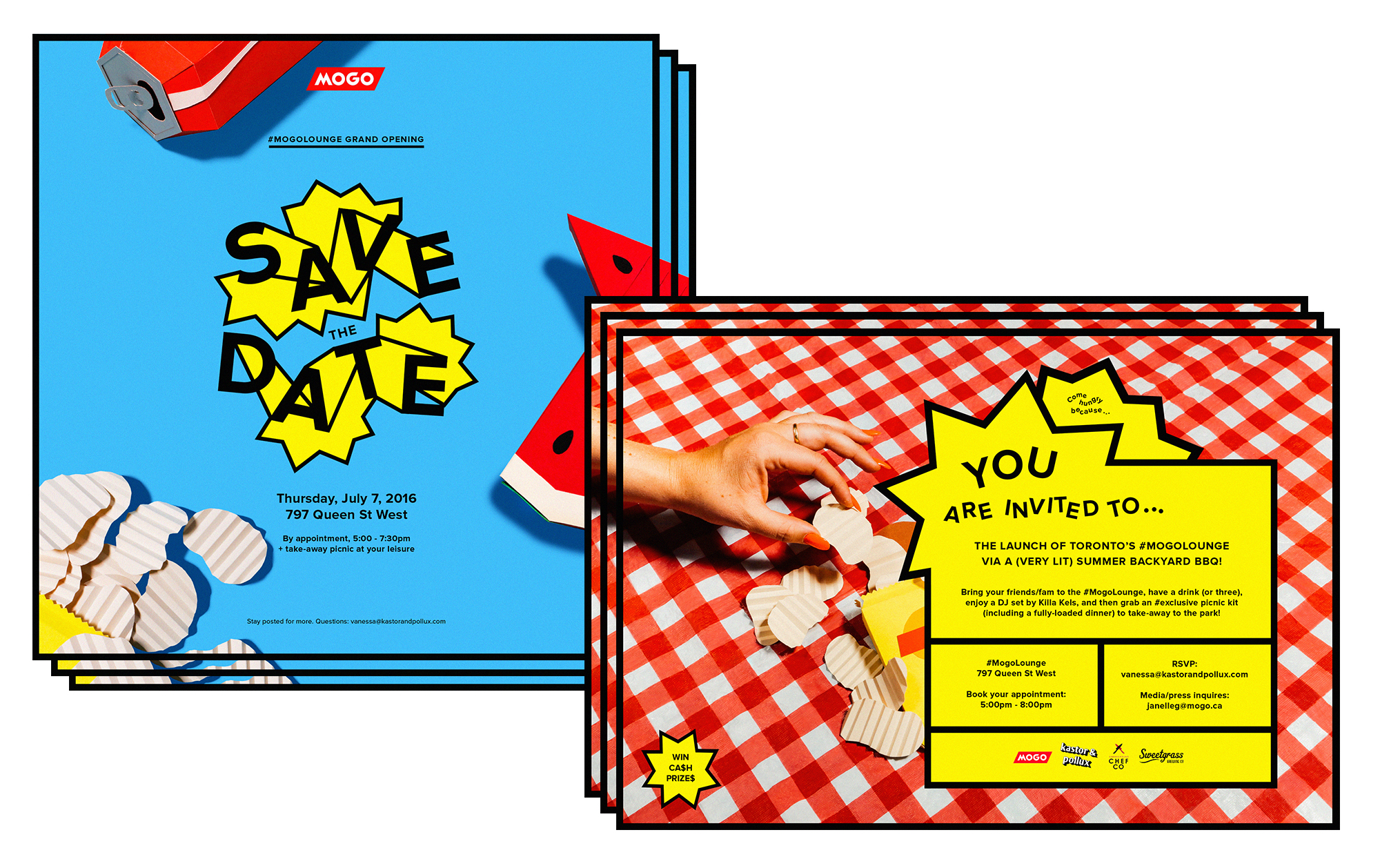 To celebrate its opening and the start of a year of collaborative event programming, Kastor & Pollux threw the Ultimate Summer BBQ. With food c/o The Underground Chef Co., drinks by Sweetgrass Brewing Co., and music by Killa Kels, the evening soiree welcomed friends – old and new – to enjoy great weather and even better company.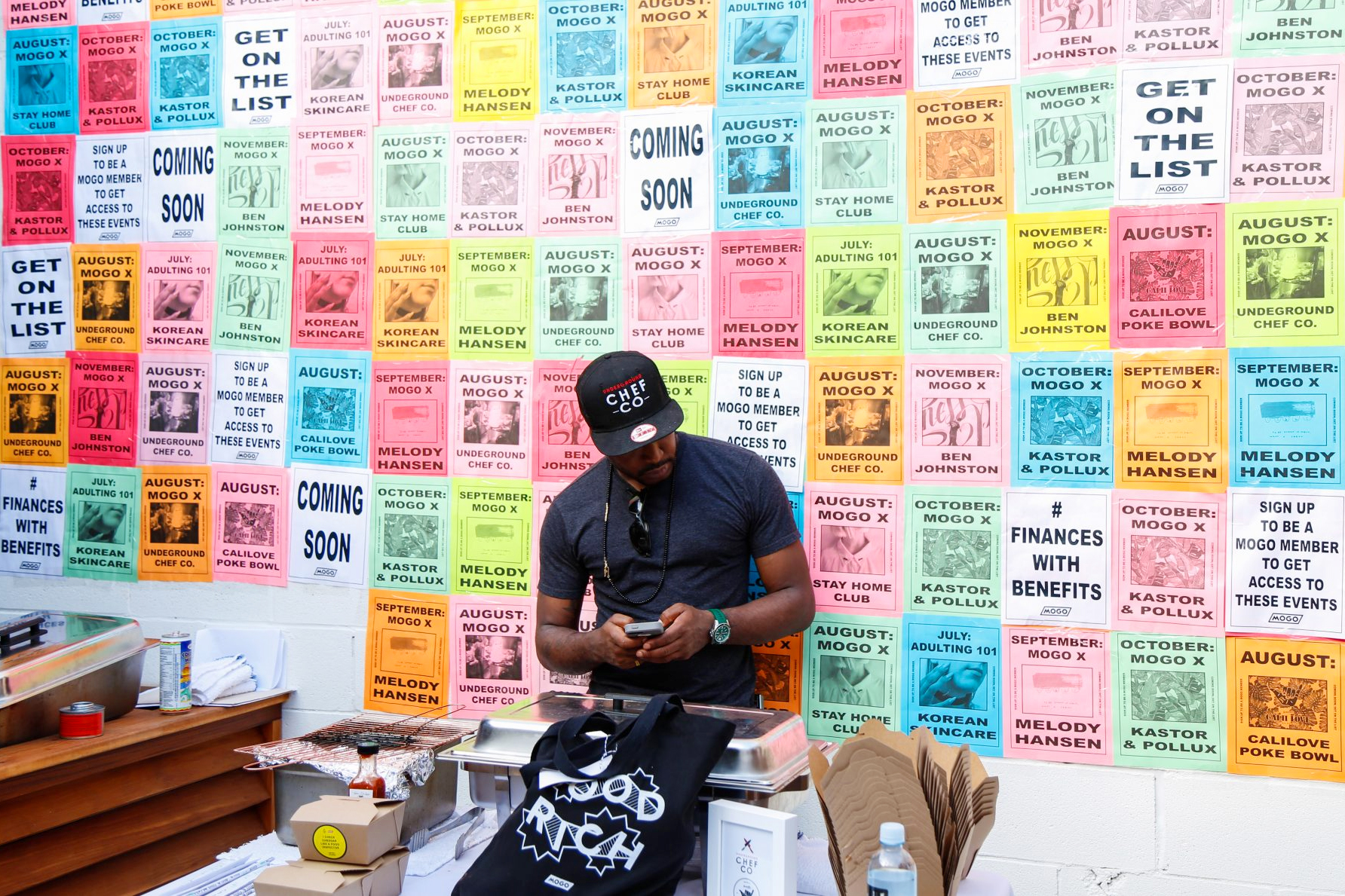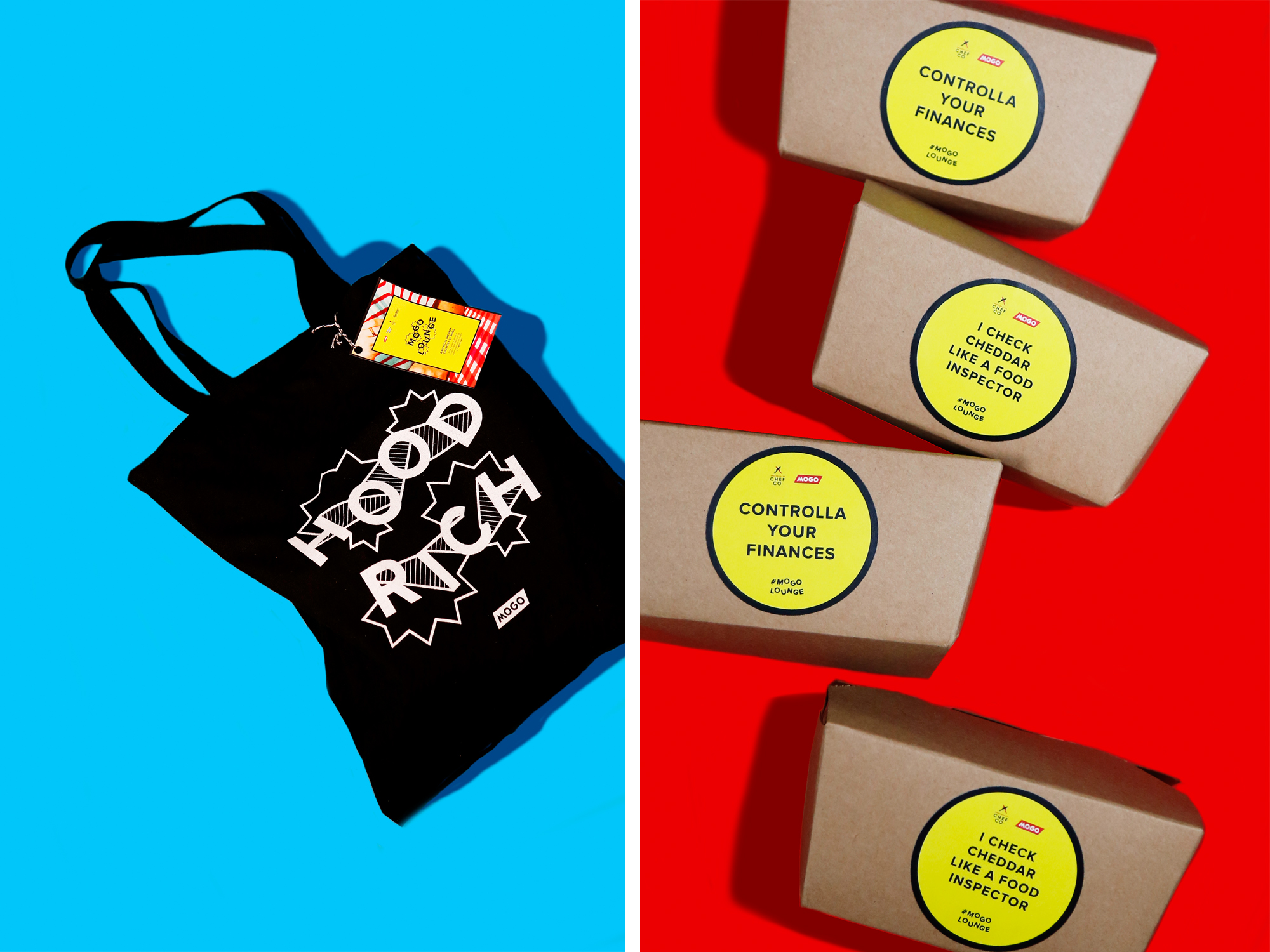 In case you need a refresher, Kastor & Pollux is a digital agency designing experiences for a new media audience. Drawing inspiration from years of attending press events, our team creates compelling and multi-dimensional experiences meant to defy traditional formats. We aspire to inspire and engage with those who we admire – not stick them in a room and make them participate in forced activities.
We thrive on creating experiences that we personally would love to participate in, each event that Kastor & Pollux produces is meticulously planned. This includes ensuring that guests leave with gifts that they will actually want to use. We want to make sure that we utilize each and every dollar of the budget in the most savvy way. Kastor & Pollux provides strategy, design, and execution: we are nimble, but we are mighty.
As well, the digital drives everything we do, we acknowledge the importance of creating participatory experiences – seeking to combine 'digital' and 'real' life. Instead of working against the increased use of technology, we are using our experiences to utilize it in effective ways. By doing this, we ensure that every experience is designed to feel personalized and mindful. We are able to reach a brand's target audience without feeling forced or contrived.
Further to that, we've grown to understand that the measurements for success are almost always accredited to what metrics you can track online. However, engaging with a hashtag is intuitive if the environment feels organic. By engaging social media conversations through an incentivized lens (such as contesting, or simply by providing aesthetically-pleasing photo opportunities), we are able to create a more impactful relationship with our guests – generating a real interest and curiosity you can't get through traditional presentations.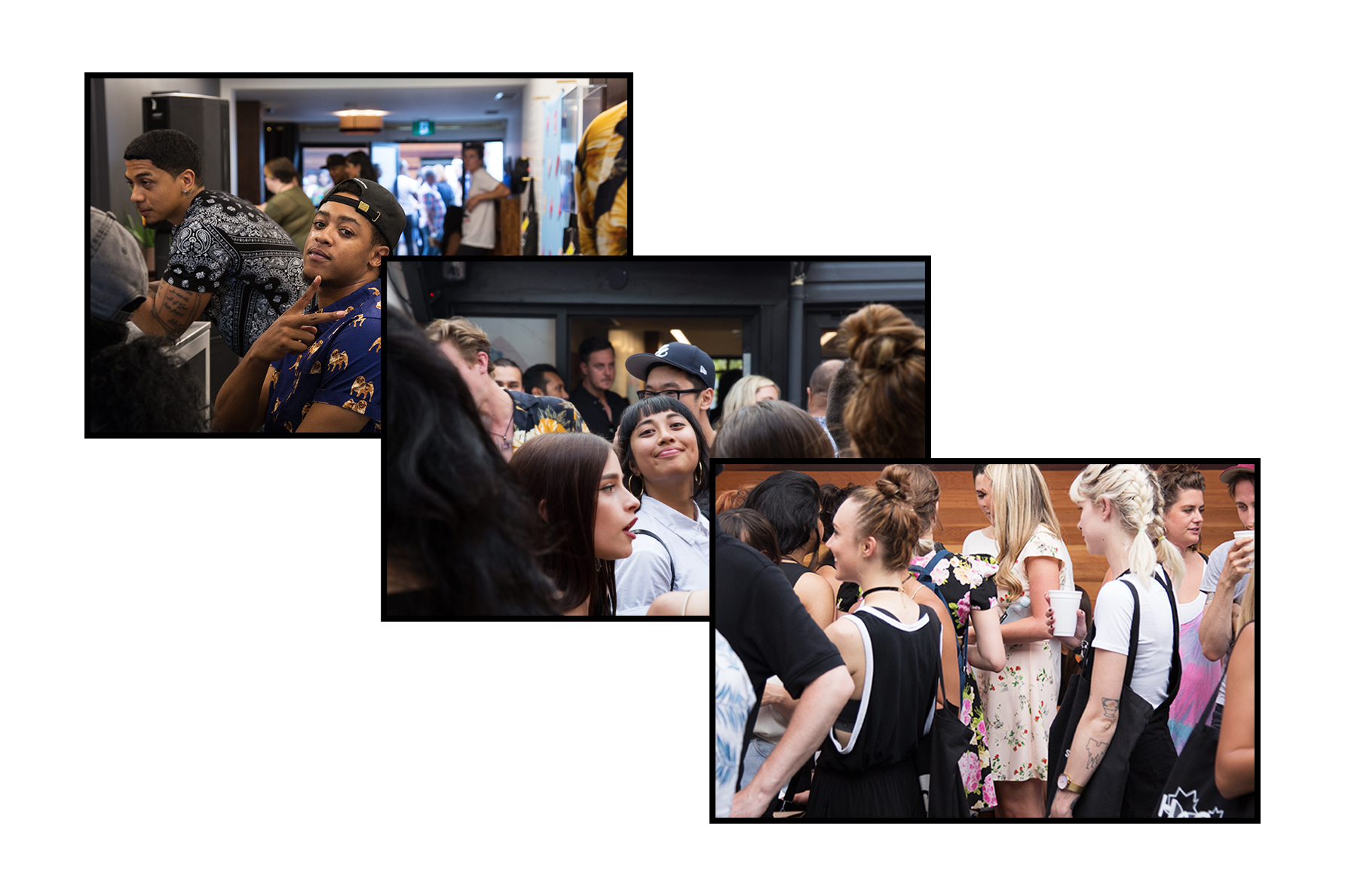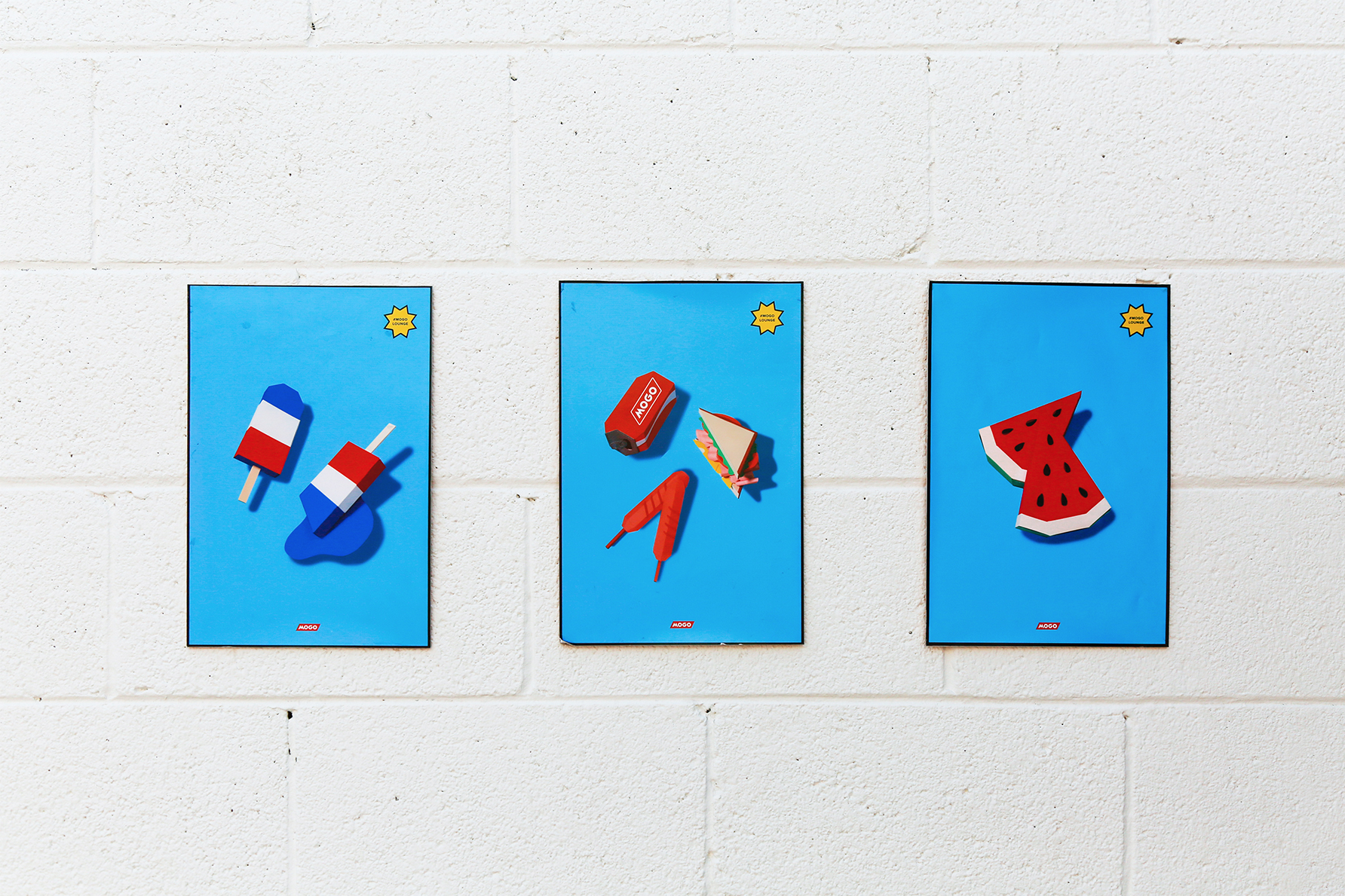 When I began brainstorming concepts for this event with Vanessa (K&P's resident PR + Special Projects lead), we realized that all of our most memorable experiences involve food. Whether we are catching up with old friends or making new ones, the perfect formula for a fun time usually boasts eating as one factor in the equation. So, we decided to combine food, friends, and free stuff for a guaranteed good time!
Since we weren't working with a 200-person event space, we decided the best way to maximize our guest list and extend the conversation to people outside a standard "industry" list, would be to invite guests to bring a +3 to pick up a free dinner, and then let them carry on their own way. Not only that, we implemented a social media contest for $500 cash that involved sharing their best picnic photos using the hashtag, #MogoLounge. Naturally, when you're out having a cute picnic with your friends, photos are bound to be taken. So by opening up the contest to more people, we generated more content to populate the hashtag and increased the awareness of the #MogoLounge.
We've all been there. A distant friend's birthday party? An intimate media cocktail event? A giant family dinner? Not knowing when an appropriate time to leave is something everyone can relate to. You've paid your due diligence — said hi to literally everyone in sight — and you want to leave. BBQ's are prone to this in-and-out nature; guests are encouraged to show-up at a time that suits them and stay only for as long as they want.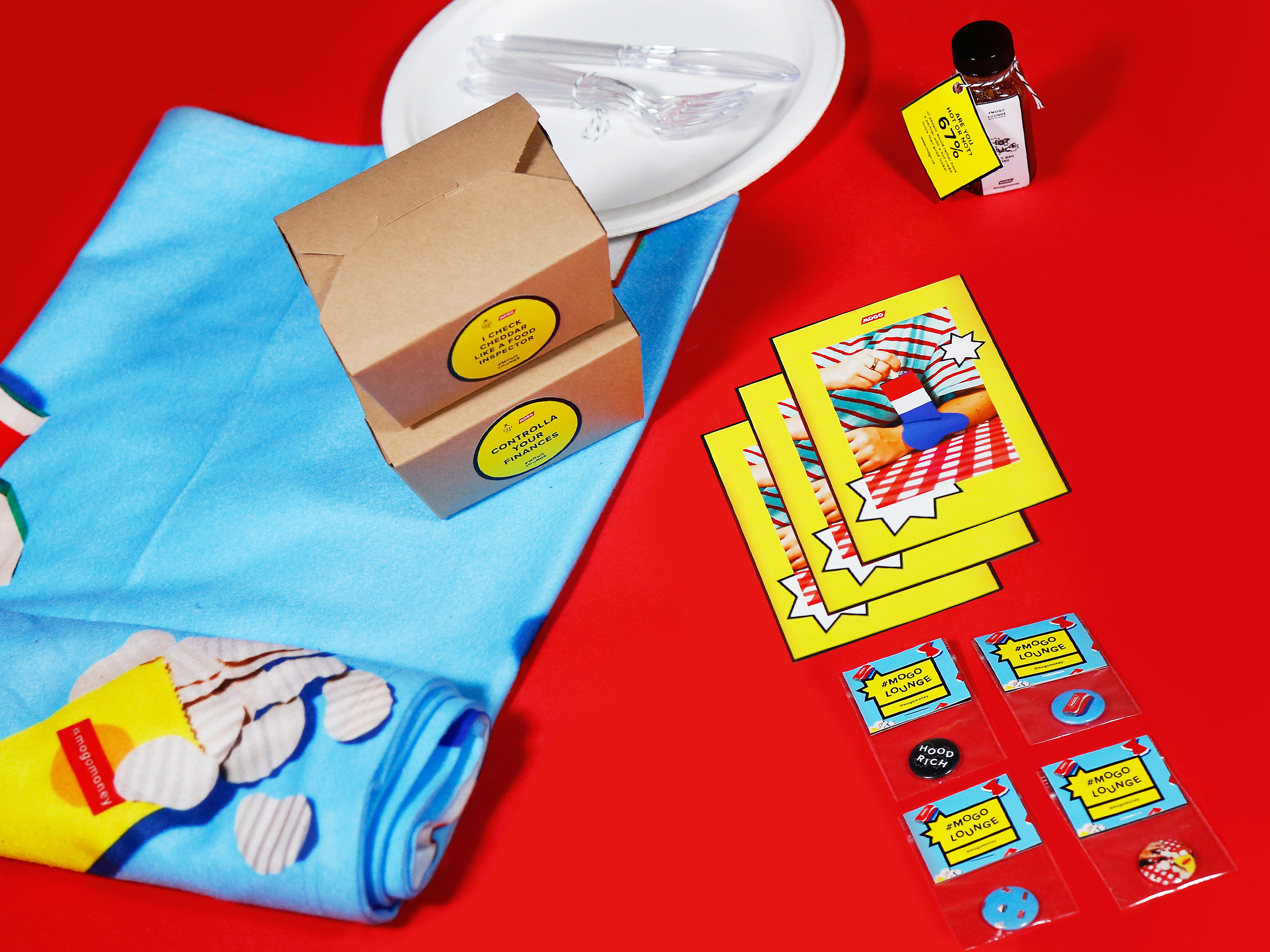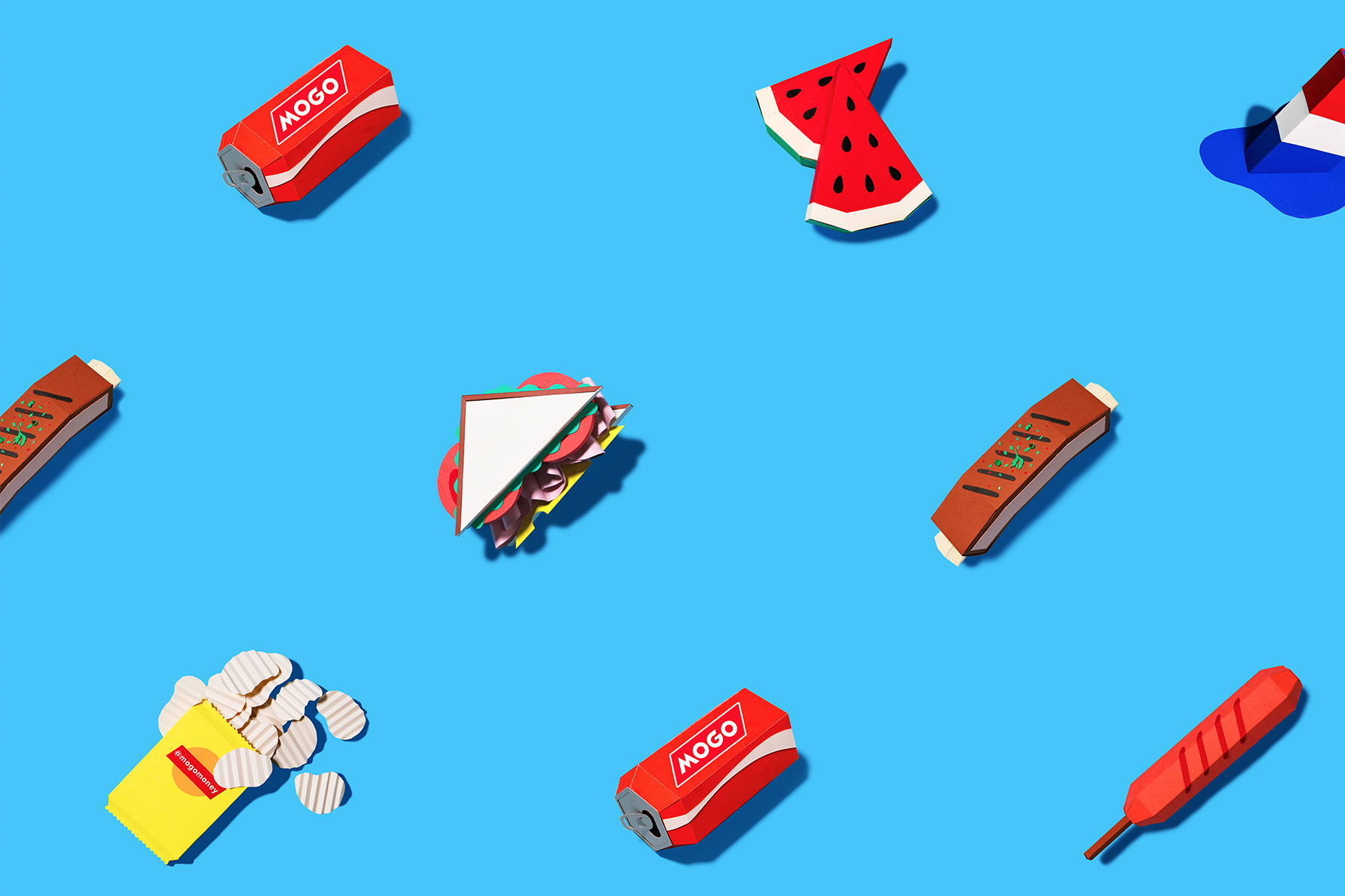 Beyond getting people into the space, we also created a glorified 'doggy bag' in the form of a custom designed tote bag featuring custom Mogo picnic swag — including a digitally printed blanket featuring hand-crafted paper food crafts (!!!). This tote left with all the guests to Trinity Bellwoods Park, so they could enjoy the rest of their evening in the company of their friends and an A+ MogoLounge experience!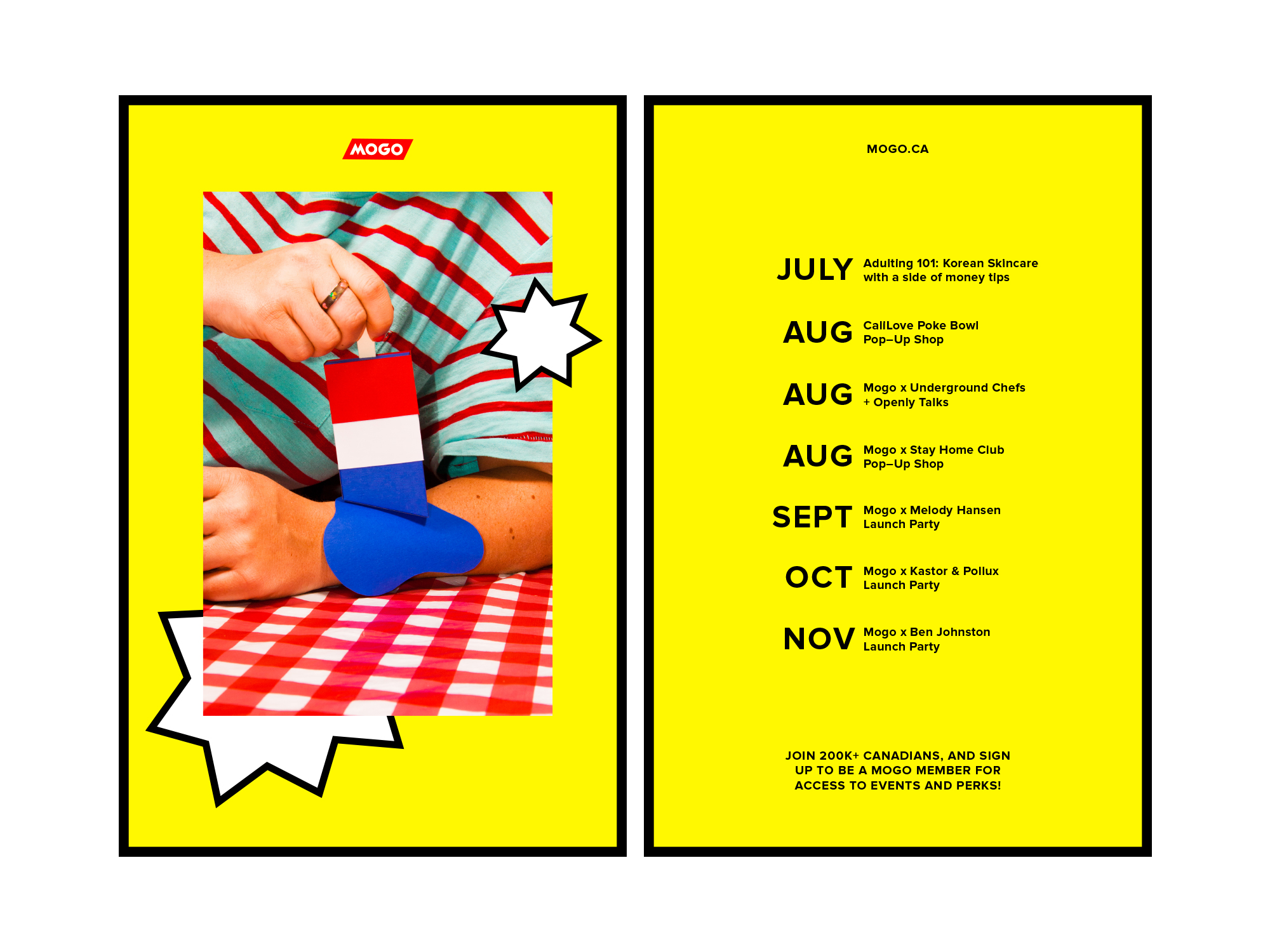 ABOUT:
MOGO is a financial tech company that's transforming the way Canadians access their money, control credit, and ultimately, get out of debt. Think of it as #FinancesWithBenefits. Unlike the big (scary) banks, Mogo takes a different approach by being convenient, simple, and above all, transparent. They're the only ones in Canada who offer a full spectrum of rates, so they've probably got an option for whatever you need and for how excellent or not so great your credit application is (BTW- if your credit sucks- you better be following this series!). Basically, they're doing to the banks what UBER is doing to taxis.
The MogoLounge, located at 797 Queen Street West in Toronto, is a space meant for community gathering. Featuring monthly pop-up initiatives thrown in collaboration with local artists/personalities/small businesses, the MogoLounge is open from 10-8PM daily.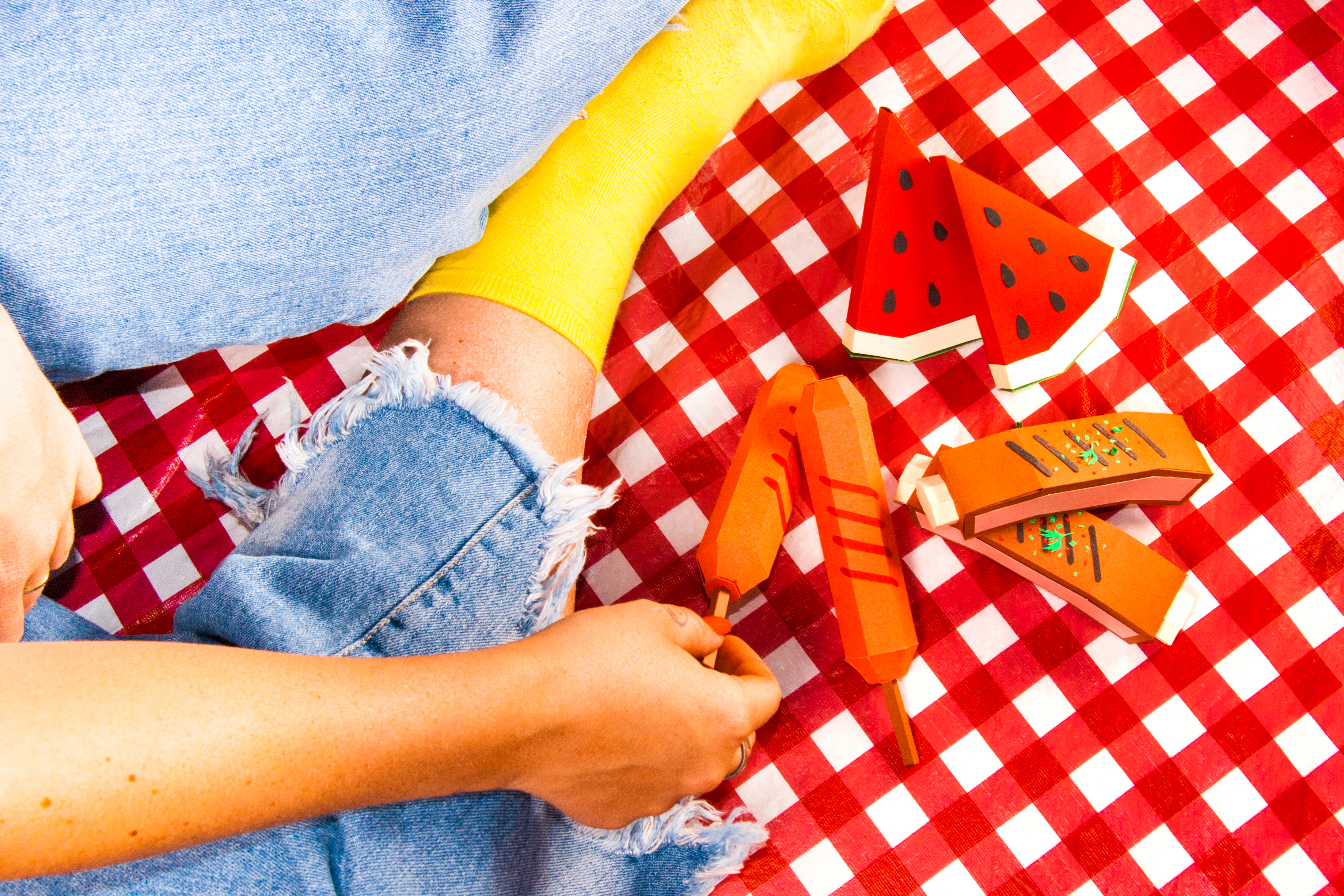 Watch the video:
Creative Direction
:
Dani Roche
Photography
by
Soojin Kim
Design
: Soojin Kim and Dani Roche
Video
:
Ema Walters
Video Titles
:
Ronan McGee
PR/Marketing
:
Vanessa Cesario