Don't Think Twice, It's All Right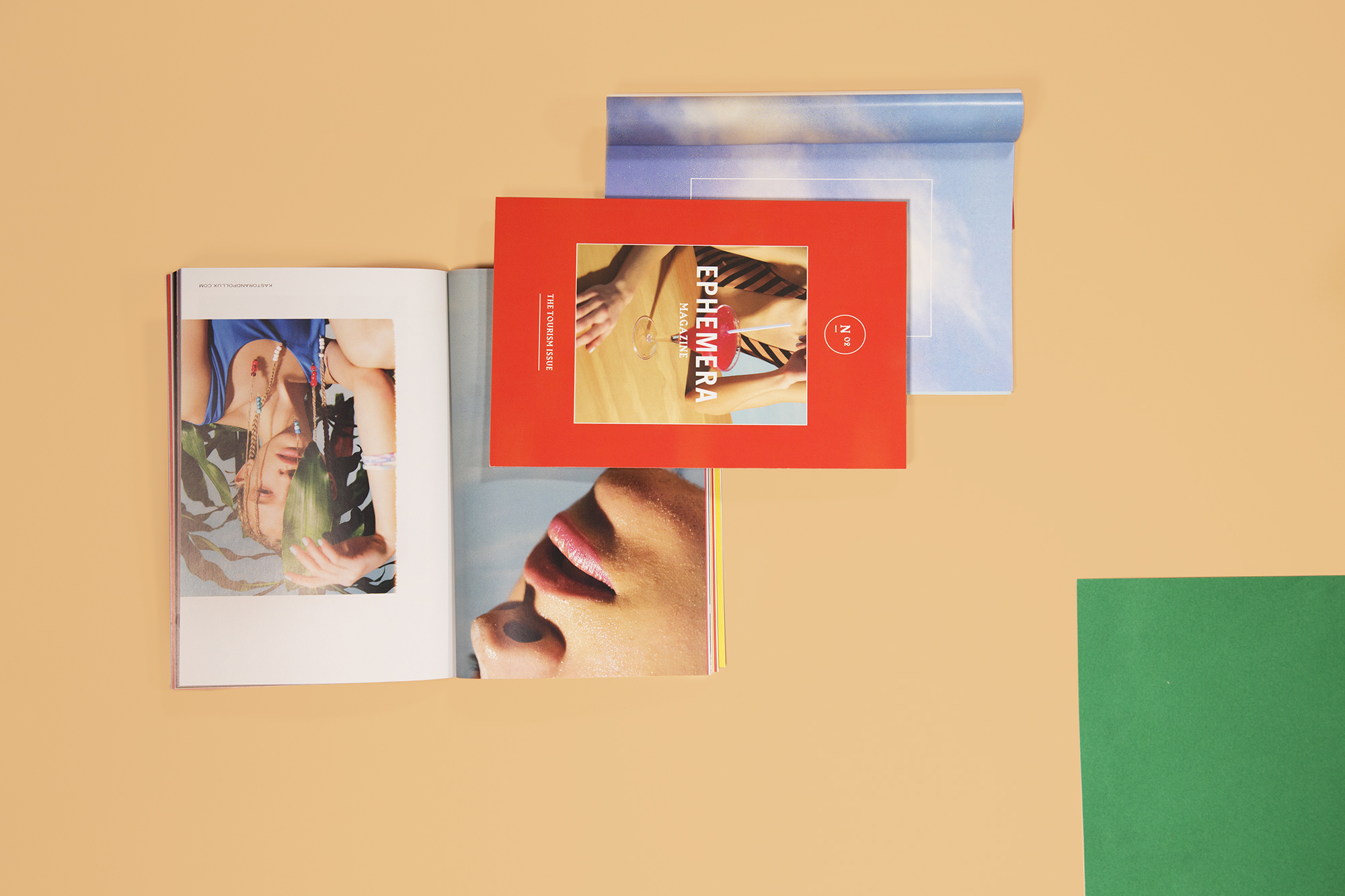 Ephemera is a new print magazine exploring permanence in a world of rapid change. Issue 2 is about tourism: though a trip may span days, weeks, or months, it is inherently short-lived and ultimately comes to an end.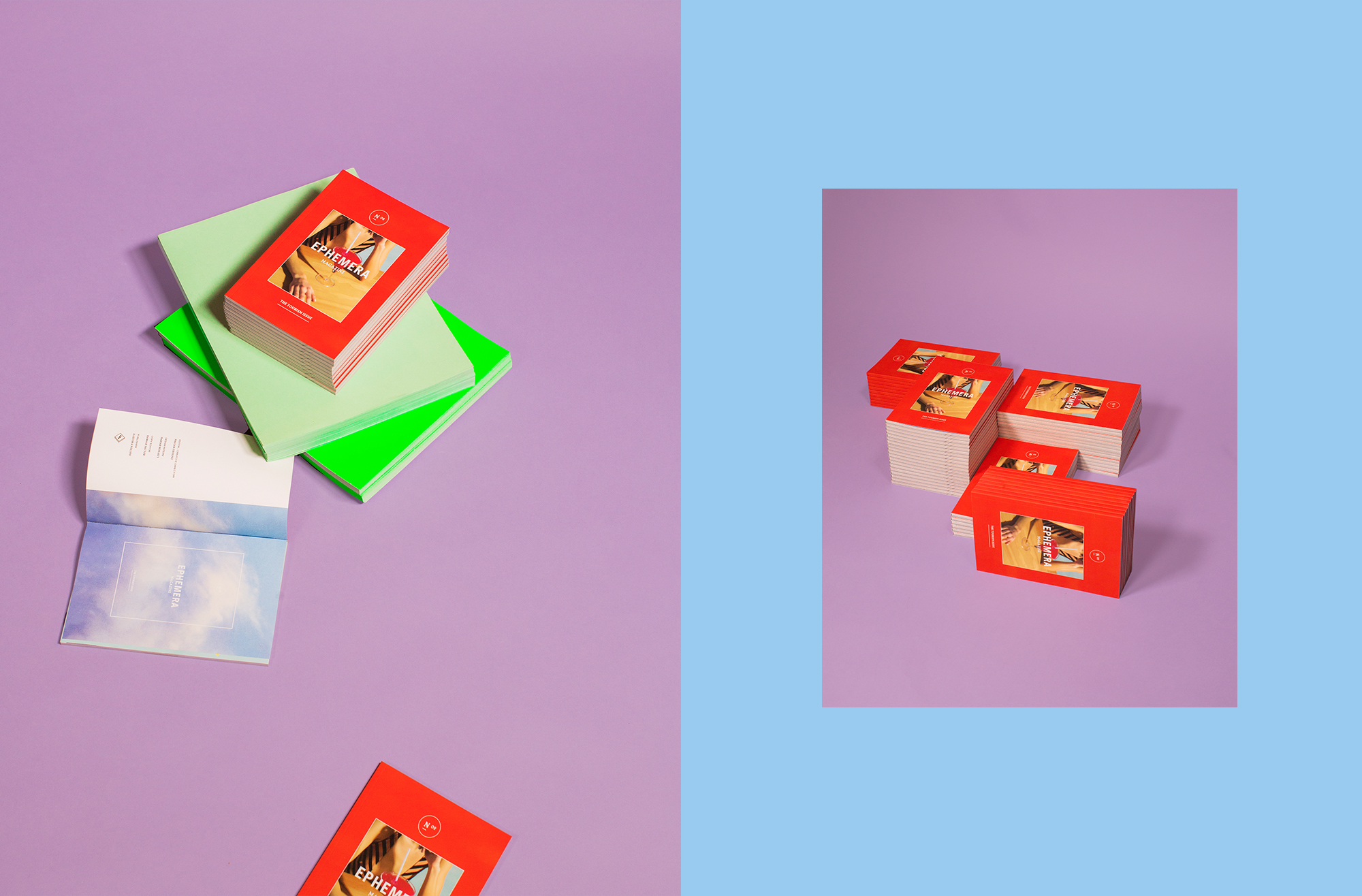 I am forever wary of the sophomore slump; of a follow-up effort not living up to the expectations of a first. As thrilled as I was to see my print magazine dreams come true via Issue 1, this one had to be bigger—better. (Note: Both Dani Roche and my therapist have told me I put too much pressure on myself. They are very much correct.) Early on, it was decided we would get a major sponsor aboard (gigantic thanks to Fido!), and quadruple our original run. I found a design intern, Mariah Morales, and re-learned how to use Excel spreadsheets in order to present budgeting plans and proposals to Kastor & Pollux. I magically put together the previous issue in a measly three months, but clearly, this was going to be a much larger undertaking.

Our first issue dissected Pop Music — a topic often dismissed as vapid — however, I decided that this one would spin that notion on its head. Instead, we explore a theme heavy with presumed meaning: tourism's impact as a culture and an industry. Though a trip may span days, weeks, or months, it is inherently short-lived and ultimately comes to an end. This issue is about the importance and impact of these otherwise ephemeral experiences.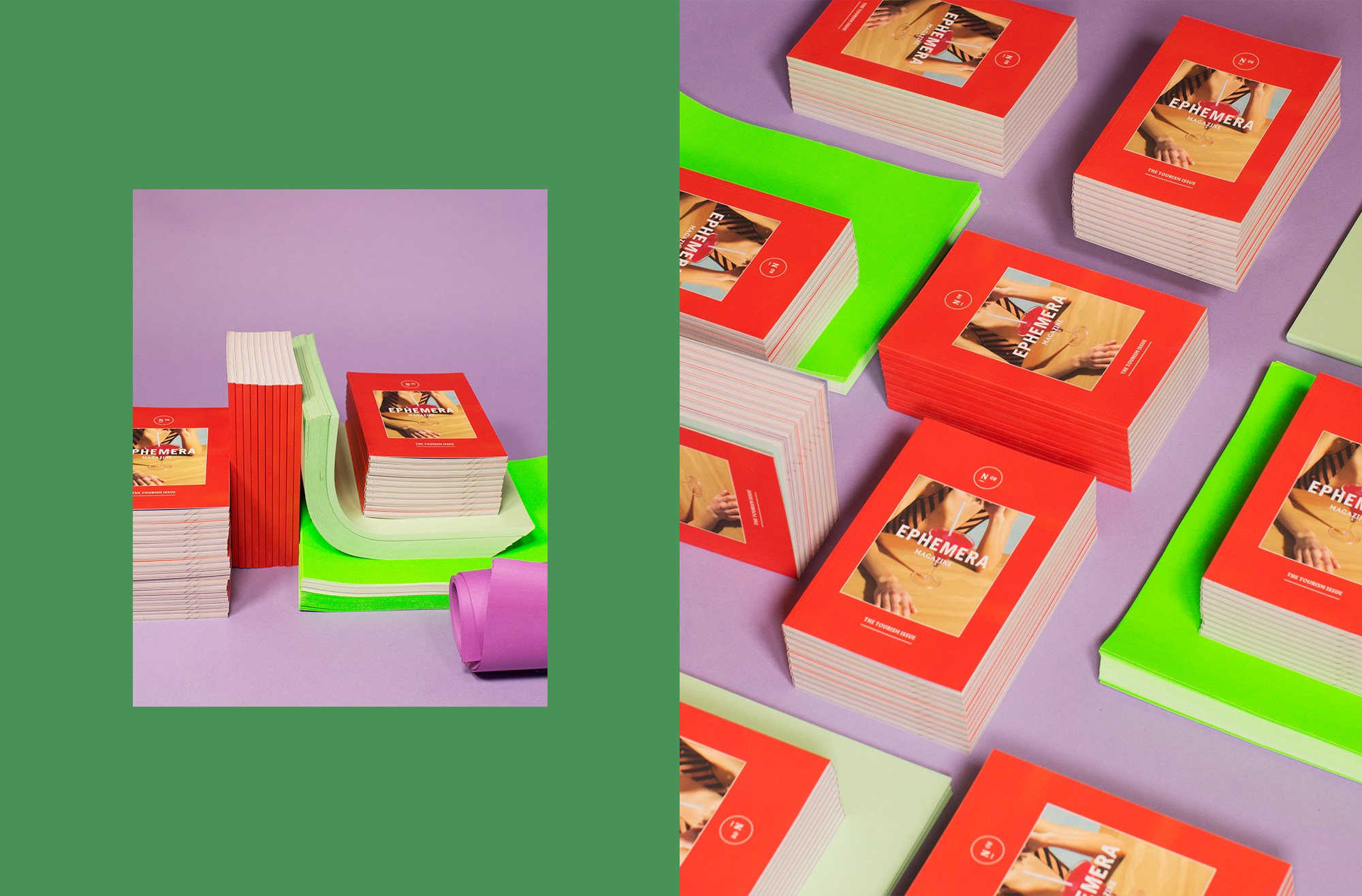 Ephemera Magazine, $17.00 USD

When I first came to the idea of focusing on this theme I imagined it taking on a much more 99% Invisible spin: dissecting the meaning we apply to popular tourist destinations, as well as how and why they came to be. Traditional travel diaries were explicitly disallowed. I presumed that, instead, this issue would revolve around representation and the assigned, superficial meanings given to landmarks, destinations, and the items associated with tourism (I am a design school grad, after all). However, this first inkling of an idea occurred in early October 2016 — a far simpler time.

The world has since entered into a much trickier and more volatile political climate. Thus, our talented contributors chose also to focus on tourism's implications in regards to belonging, identity, self-worth, capitalism, and cultural norms — far exceeding my expectations.
Travel has become an increasingly weighted act in 2017 — though, for many, it has always been an exploration of identity, or perhaps in some ways a matter of self defense. Asking people to be critical of vacation culture and tourism in the middle of a cold, grey winter certainly proved taxing, but ultimately, more than worth it.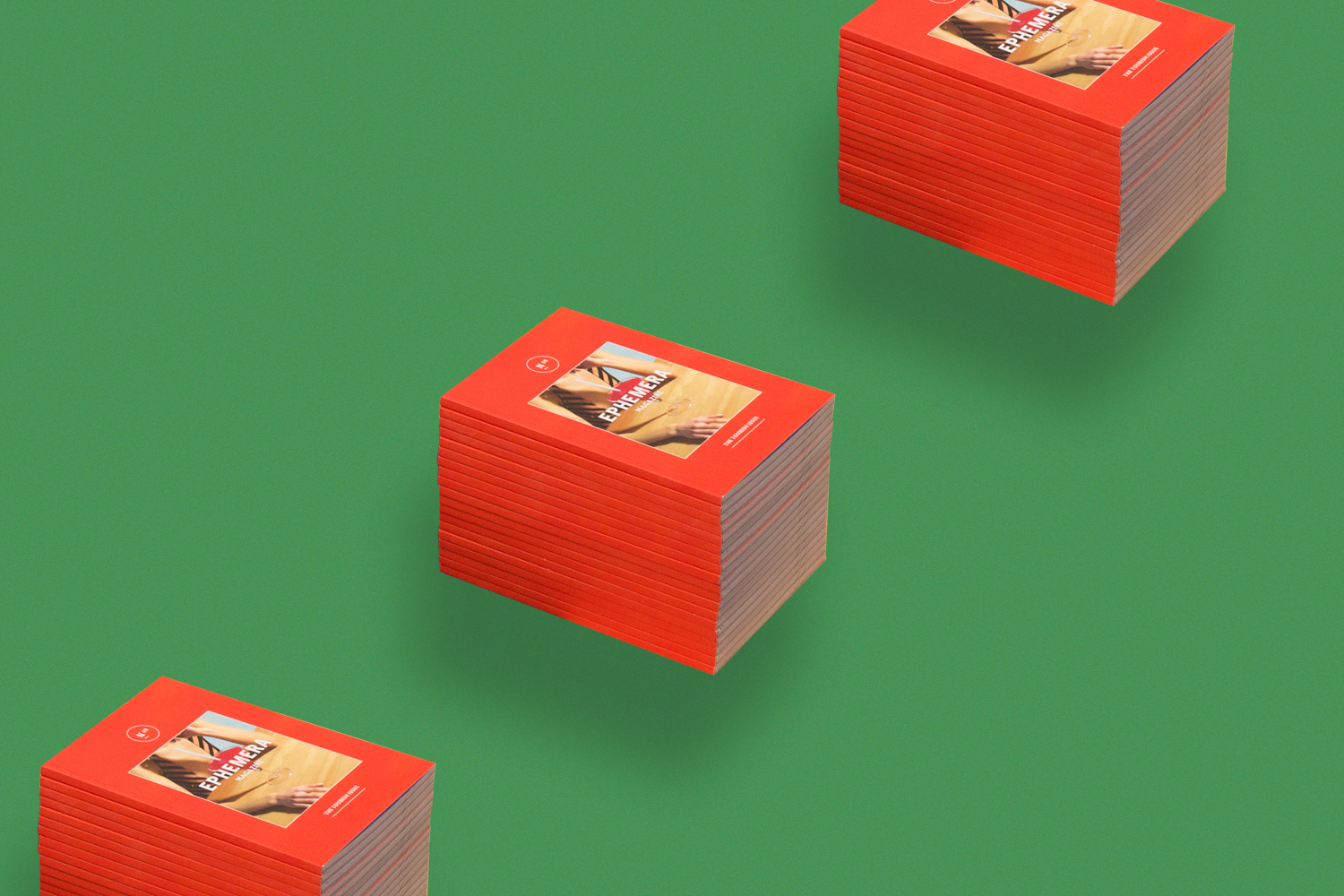 Ephemera Magazine, $17.00 USD

Needless to say, Issue 2 has been an exciting undertaking. I worked up the courage to cold email a handful of image makers and writers whose work I highly respect, and received an overwhelming number of pitches from emerging talents. This project has allowed me to work with a wide range of fantastic contributors, and I couldn't be more proud of the amazing work I have been given the opportunity to put together. Being able to connect and join forces with such driven, creative individuals, and having the opportunity as an editor to help them develop their ideas to produce a final work has been incredibly fulfilling. I truly believe that sharing these words and images through a collection of work in physical form — an increasingly rare act — allows readers to also engage with different perspectives in a way that allows for a truly unique and impactful personal connection.

A couple weeks ago, we held a Toronto launch event at the new Ease space, complete with Panago pizza and Sweetgrass beer. It was pouring rain all day; a cold, wet May day, and as such I predicted a few handfuls of people would come by every so often. Yet, once again, my expectations were surpassed—it was incredibly heartening to see the space fill with people celebrating my little magazine. That night, I was asked a few times how this project first came to be. Long story short: I decided I wanted to make a magazine; I told Dani; she said to pitch it to her; I did. And then I made a magazine. Now, somehow, I've made two.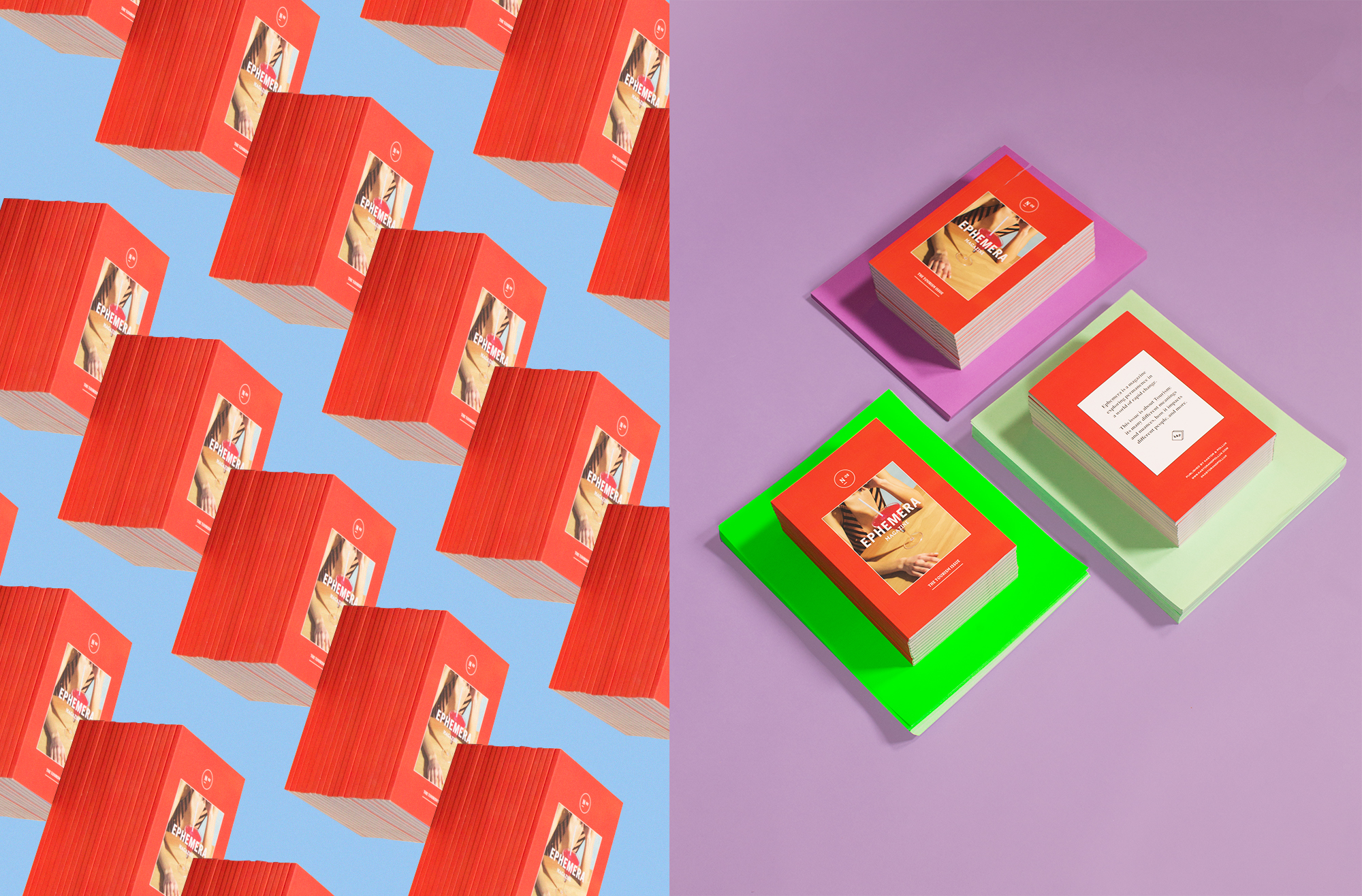 Ephemera Issue 2 revolves around tourism. It features the work of:
Alexandra Caufin / @textandgather
Andréa Crofts / @andreacrofts
Carolyn Tripp / @carotripp
Dani Reynolds / @daniirey
Fariha Roísín / @fariha_roisin
Haley Chambers / @haleygwendolyn
Jennifer Cheng / @jennifer_cee
Kelsey Adams / @killerkelsx
Krizia Victoria / @krimoji
Leeor Wild / @leeorwild
Lydia Pawlowsky / @lydiapawl
Maegan Fidelino / @maeganfidelino
Mariah Morales / @mrhmrls
Melody Hansen / @themelodyh
Perry Phalla / @perryphalla
Rachna Soun / @xorachna
Shelby Fenlon / @shelbyfenlon
Stefan Chua / @stefanchch
Wiley Keiko / @wileykeiko


You can purchase Ephemera Magazine at Soop Soop, Likely General, Type Books, and the Kastor & Pollux online shop.

Thanks to Fido for your ongoing support of Kastor & Pollux, and for helping power Ephemera Isse 2.