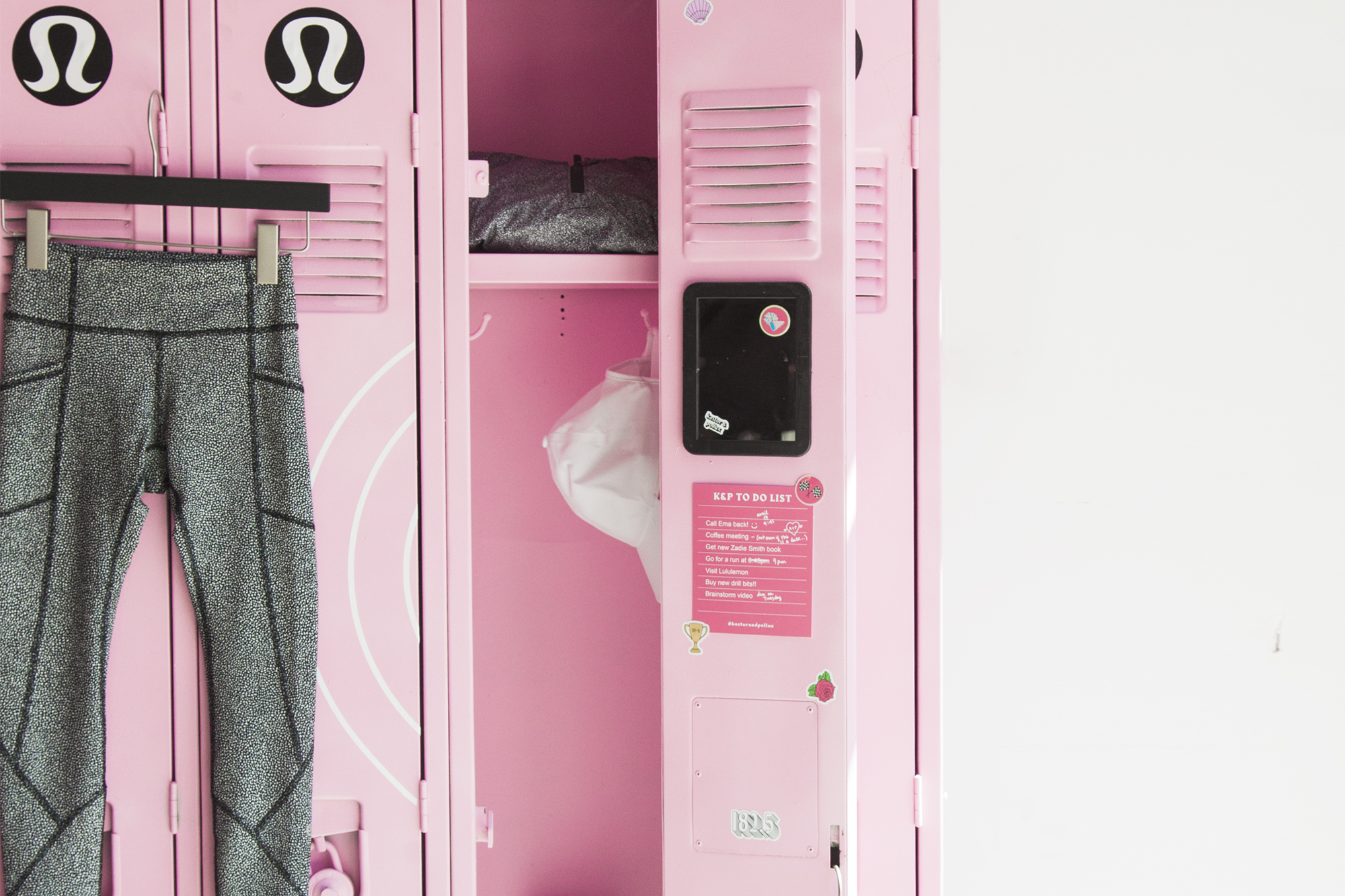 From the outside, running is often considered a solo sport. In Toronto, this is far from the truth. From run crews to cheer squads, city-wide relays and Sunday long runs, this city has turned running into a team endeavour. By way of strides and Strava routes, we connect, communicate, and create together.
This spring, Lululemon announced the exciting news that they would be acting as title sponsor for Toronto's iconic Waterfront 10km race in June. This is big news in the running world, as the race has a long history in this city. In celebration, the Lululemon Queen Street team invited us create a Kastor & Pollux installation at their West end hub, 318 Queen St. West in Toronto.

Drawing on elements from the spaces in which recreationalists congregate – the locker room, the winners podium, the track – we set out to celebrate the notion of community in running culture.

Strong lines and solid rectangular plinths provide additional dimension while their geometric shape allude to the dynamism and power of athletics. True to form, Kastor & Pollux turns commonplace and often-overlooked imagery in art objects.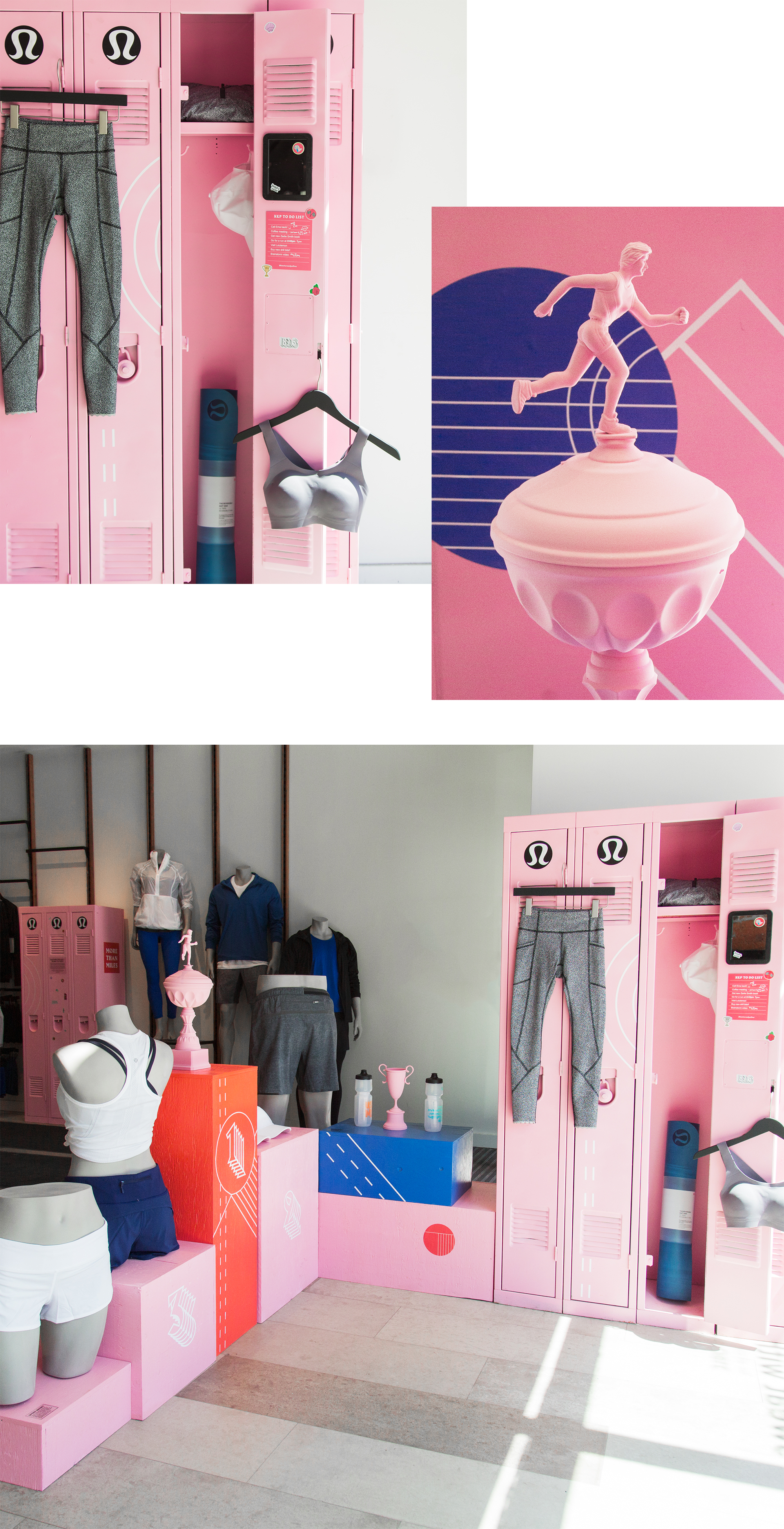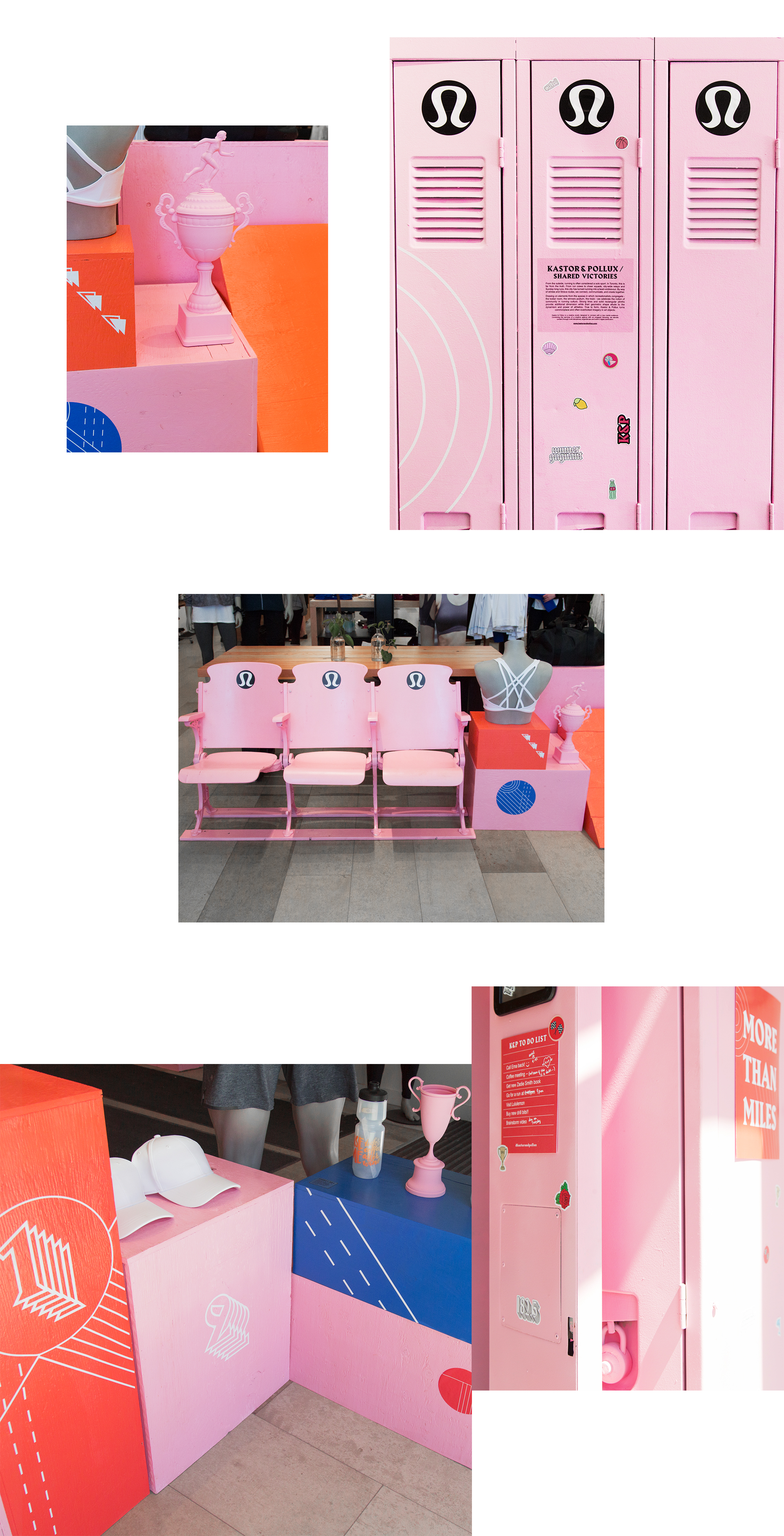 This project was especially meaningful to me because I've experienced first-hand the benefits of Toronto's tight-knit running community. After graduating from school, meeting new people and building long-lasting, meaningful friendships can sometimes be a struggle. Joining a run crew really helped bridge that gap for me. Through running, I've met some of my best friends (and some great mentors too). Although running is a solo sport, in Toronto, we've turned it into a team effort. Personal victories are shared victories.

Through my travels in recent years, I realized this was pretty unique to Toronto, at least the intensity of it. Sure, other cities have running communities but not as many met on a consistent basis, with so many members, and such with such a community mindset.

Being a part of a small yet nimble creative team like Kastor & Pollux is similar. Dani Roche always reminds us that personal victories are shared victories.
This build for Lululemon truly allowed us to flex and stretch creative muscles. In the spirit of sportsmanship and teamwork, we added two new players into the mix – Jordan on fabrication and Sabrina on graphics. This was also my first time leading a build, so I was happy to have Dani Roche coaching me through the process.


Direction: Dani Roche
Design + Production: Dani Reynolds
Graphic Design: Sabrina Scott
Fabrication: Jordan Mill
Assistant: Chanelle Lu